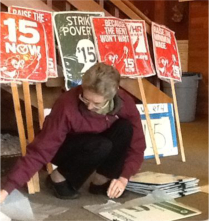 Updated March 24, 2015
Help make Tacoma the City of Destiny!
The 15 Now Tacoma Campaign Needs You! Volunteers wanted to collect approximately 3500 valid signatures! This is to get $15/hr minimum wage on the ballot in November 2015.
You can help by gathering signatures from your friends, family, at your church, holiday gatherings, school, union, work (when you are off the clock!) etc.
We will provide you with a custom 15 Now Tacoma clipboard, petitions, voter registration cards, donation envelopes and brief training. Message us or email us at 15nowtacoma253@gmail.com.


Check out the new Signature Gathering Opportunity calendar. If an item appears to be of interest, just click on it, and it will expand, showing the details. If you want to participate, you may leave a comment at the bottom of this list if you wish.



(Information taken from Sarah M's Facebook posts and emails)