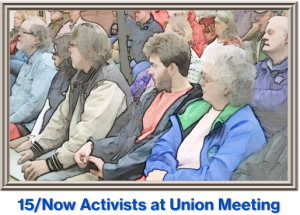 WHO WE ARE:
We are the 15/Now Tacoma coalition, a local collective of working-class Tacomans, low-wage workers, retired people, community activists, religious activists, labor activists, and friends fighting for a $15/hour minimum wage in our city. We are your neighbors and coworkers. We are trying to qualify an initiative to the voters, which would enact the toughest local minimum wage law in the country. We are locally financed and not controlled by any political, religious, or sectarian organization. If you believe everyone who works deserves a fair wage, please join with us to make Proposition 1 and the $15/hour minimum wage a reality in Tacoma.
WHY AN INITIATIVE?
Some time ago, over 1000 Tacoma workers and residents signed a request to the city council asking that they enact meaningful legislation requiring $15/hour minimum wage. A large group of us went to the Citizen's Forum of the Tacoma City Council meeting, presented over 1000 signatures. Many low-wage workers testified in favor of the City Council taking action. But the City Council failed to act on this entirely reasonable request. Therefore, we activists are now attempting to get this initiative on the ballot for the November election. Our interactions with the public so far show mass support for this measure. This initiative will put into place the strongest local minimum wage law in the nation, with no phase-in, and a meaningful enforcement mechanism.
HOW TO REACH US
Contact us:

email: 15nowtacoma253@gmail.com
Phone: 1-253-213-7207

Visit us:

Website: https://15nowtacoma.info/
WHO SUPPORTS 15/NOW TACOMA?
Probably many people you know in the community. Many organizations, religious groups, unions, and individuals have endorsed this effort, including the following:
To see our endorser list, click here.