By Alan OldStudent
Friday, Nov 6 2015
Editor and Webmaster
—
—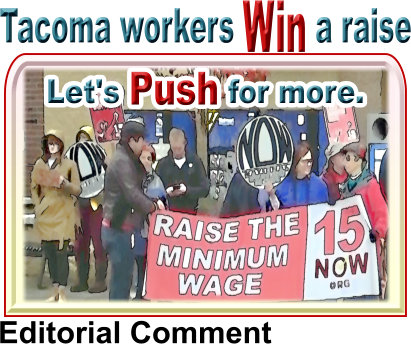 Right now, I'm feeling immensely proud of 15 Now Tacoma and what each one of us has done. We 15-Now-Tacoma volunteers can hold our heads high and pump our fists in the air. We've been fierce and valiant warriors, and we've won a partial victory. We're feeling positive and energized. Stay tuned! We're not finished yet! We're discussing what to do next, and we'll need everyone's help for the next round.
We may have lost the election, but we WON the argument. Here's why:
For months, we made raising the minimum wage the central focus of Tacoma politics. No longer can anybody in Tacoma credibly question the need for raising the minimum wage. That's a sea change from before. It's a giant step forward for us and for Tacoma's working class.