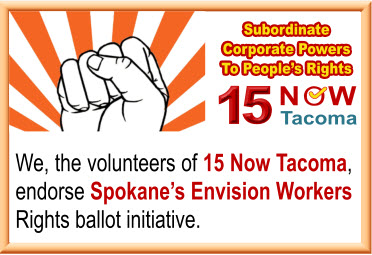 A group called Envision Spokane (ES) is sponsoring a ballot initiative that would enact a so-called "Workers' Bill of Rights." The Spokane City Council referred ES's proposal, Initiative 2015-2 to be placed on Spokane's November ballot after ES had gathered the required number of signatures to qualify it for the ballot.
However, the Mayor and City Council, at the behest of business and special interests, are now trying to scuttle this initiative. These measures include the Mayor filing a lawsuit to try to knock part of it off the ballot. The City Council also placed several "advisory" questions on the ballot, which are actually poison pill questions. You can read about this cynical and manipulative ploy by clicking here.
At our last Action Group meeting (Aug 1, 2015), after discussing this campaign, our 15 Now Tacoma volunteer teammates unanimously endorsed Spokane's Workers' Bill of Rights. The Envision Spokane group had already endorsed 15 Now Tacoma and Initiative Measure 1, in a show of solidarity.